Policies and Procedures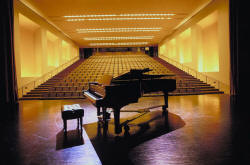 Teaching Philosophy:
My teaching philosophy is traditionally based---classical music is the foundation, the very core of both piano and vocal study. However, other genres are incorporated into the learning process....not only for technique, but for sheer enjoyment.

Attendance:
It is extremely important to be consistent in attendance even if the student is not prepared. It is always better to attend the lesson and receive instruction for the following week.


Cancellations:
Lessons will be rescheduled with 24 hour notice if time in the weekly schedule permits.


Make-up Lessons:
No make-up lessons will be given. In case of instructor abscence, lesson will be made up or credited back the following month.


Discontinued Lessons:
A 60 day notice is required for the termination of all lessons.


Practice Requirements:
Practice is essential for the student to meet their maximum potential. A minimum of 25 to 30 minutes 5 days a week is required. If necessary, practice schedules can be discussed and altered on an individual basis.


Performance Opportunities:
Hunters' Music Studio gives two recitals each year where the students can showcase their talents. Students can also participate in the National Piano Ensemble, The National Piano Guild Auditions and Musical Events orchestrated by the National Teachers of Singing.


Tuition:
A one-time non-refundable registration fee of $65.00 is due the first lesson.
Monthly tuition is as follows:
$128/4 30 minute lessons
Four months out of the year there are five lessons. There is no extra cost for the 5th lesson due to the fact that the

studio is closed the week of Thanksgiving, the week of Christmas and the week of New Years. One week of vacation during the summer months will be announced prior to June 1st.


An administration fee of $75.00 is billed every January and is used to help supplement the costs of operating a private music studio.


Please make checks payable to Laura Hunter or Hunters' Music Studio.