About Laura Hunter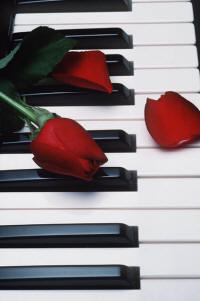 Laura Hunter, coloratura soprano, pianist, and accompanist is going into her 15th year of teaching voice and piano, as well as performing professionally throughout Arizona. Her students can be heard performing in all musical genres in venues around the world.....including Eger, Hungary, where she was invited to perform as well as establish a music program at Estherhazy, University. Miss Hunter began her early studies with her Mother, Elaine Hunter, and continued on to study at Grand Canyon University with Dr. Sheila Corley for voice and Dr. Judy Lively for piano. While attending GCU, Miss Hunter was honored to accept one of the most prestigious awards the academic community can bestow--selection to Who's Who Among Students in American Universities and Colleges. Laura graduated from GCU receiveing a Bachelor of Music in Vocal Performance.


Continuing her education, she attended California State University, Northridge, where she studied with Dr. Deanna Murray. Laura was accepted into a very prestigious opera program, "Opera Works," where she made her opera debut. Graduating from CSUN with a Masters of Music Degree in Vocal Performance, she went on to teach music students at Grand Canyon University in Phoenix, Arizona.


Miss Hunter has sung numerous roles as a coloratura soprano, and was invited as a guest performer at Mamoth, California and Eger, Hungary, as well as many others. She has directed both children and adult choirs and has been a church pianist, accompanist, and soloist for many years. Miss Hunter has performed in numerous recitals and concerts and participated in the National Piano Guild auditions for over 10 years as well as the Piano Ensemble. She is a member of the Music Teachers National Association (MTNA), Arizona State Music Teachers Association (ASMTA), Phoenix Music Teachers Association (PMTA), The National Piano Guild Auditions and the National Teachers of Singing.


Miss Hunter continues to perform while maintaining her duties as Director of Hunters' Music Studio and instructor of voice and piano.